Instructor – Randall Phillips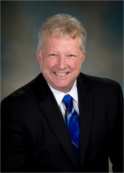 Randy Phillips began his career in financial institution security while still employed as a police investigator in upstate New York. His career in law enforcement provided his first exposure to the world of corporate security and financial crimes and would shape his career path from then on.
For several years he juggled two careers, pursuing robbers as a police officer and then teaching financial institution employees about dealing with those very people. His early days in the financial services industry began as an advisor and instructor on bank security topics. He quickly transitioned to the position of board-appointed bank security officer. During the next twenty years he would further this career and gain valuable experience in administering all areas of security for financial institutions while serving as: director of security and facilities, regional security officer, and corporate security director. His analytical thinking and thoroughness have been tremendously beneficial in writing policy and procedure, developing business continuity plans, and creating training programs.
His dual careers have also provided much insight and experience into the world of fraud, embezzlement, and ethics investigations. He has honed his skills in risk assessment and mitigation, designed and implemented a fraud awareness and incentive program for tellers, and been recognized for his robbery awareness and prevention programs. Most recently, he has been involved in the pursuit of ATM skimmers and the efforts to stay one step ahead of them. He routinely collaborates with many local, state and government entities including the Department of Homeland Security, U.S. Secret Service Electronic Crimes Task Force, and the Federal Bureau of Investigation.
Sorry, there are no courses or events available based on your search.