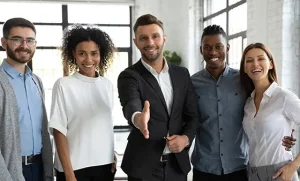 Continuing Education Credits: IACET CEUs: 0.2 (Contact Hours: 2 hours) HRCI Credits: 2 (Type: General) SHRM PDCs: 2
Estimated time to complete:  2 hours (90 days access time)
Self-Paced Online Course Description:
Onboarding is the process of welcoming new employees into the organization and providing them with the resources necessary to be fruitful members of the organization. This process is a calculated method that lasts anywhere from a month to a whole year. Onboarding is directly connected to many key HR functions, including workplace culture and safety, professional development and training, and employee retention. When employees have a strong onboarding experience, they are more likely to stay with their organizations longer and to feel satisfied in their roles.
In this course, you'll learn what makes an onboarding plan successful, and you'll learn how orientation, onboarding, and training come together to promote long-term success for new employees.
What You Will Learn:
Define onboarding and explain its importance

Differentiate between orientation and onboarding

Identify key elements of an effective onboarding plan

Describe HR functions related to onboarding

Recall effective strategies for onboarding in hybrid and remote work settings

Identify different training methods and explain how training relates to onboarding

Describe the relationship between onboarding and organizational culture
Key Features:
Mobile-friendly
Audio-enabled
Badge and credit-awarding
Real-world case studies
Fully accessible
Games & Flashcards
Expert-supported
Video content