Instructor – Liz Uzram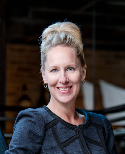 Liz Uram is a nationally-recognized speaker and corporate trainer who works with leaders to develop the skills they need to make a bigger impact, get better results, and influence others to do their best.
Liz has been practicing, studying, and teaching leadership skills for more than 20 years. She has worked with companies like Wells Fargo, Transamerica, American Family Insurance, Allina Health, United Health, State of Minnesota, Jennie-O, and International Dairy Queen among many others.
Whether she's training onsite at a client location or speaking at a conference, audiences get practical solutions to everyday leadership challenges they can apply in the real-world. Her stories and examples drive home the lessons and make them stick, earning her an average rating of 4.8 out of 5 stars.
Liz has written four books packed full of tools to help leaders get real results, real fast and she holds a degree in Organizational Leadership. She enjoys spending her free time on the 3G network – golfing, gardening, and being a grandma.
Total Course Results: ( 1 )