Instructor – Rachelle Humiston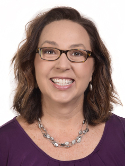 Rachelle Humiston, Executive Consultant and Director of Cultivate™ has more than 14 years of experience in developing and implementing customer service cultures, brand projects, marketing campaigns, events and public relations initiatives for both large and small companies.
Over the past nine years she has worked with some of Haberfeld's top performing clients, visiting nearly 500 branches across the country and coaching more than 5,500 financial industry professionals. Rachelle is responsible for coaching, client management, sales and client communication. Rachelle is a graduate of the University of Kansas.
Total Course Results: ( 2 )