Instructor – Timea Nagy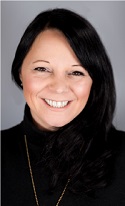 Timea E. Nagy is a best selling author, internationally recognized human rights activist and entrepreneur who came to Canada, from Hungary, Budapest at the age of 21 to work a summer position as a nanny or general worker in order to keep her family from losing their home. Ms. Nagy's employers turned out to be an international human trafficking ring, and she became a victim of international sex trafficking for 3 months. With the help of Canadians, she escaped but returning home to Budapest for the long term was not a safe option.
Ms. Nagy settled in Canada and started her new life. 10 years after her experience she started sharing her story with law enforcement and became one of the best known Canadian survivor speakers in the public sector. In 2009, she founded Walk With Me Canada Victim Services, Canada's first 24/7 mobile victim care unit working closely with police assisting victims of sex trafficking. In 2010, she opened Canada's first safe house for sex trafficked victims. The organization worked on the largest cases to date and assisted over 400 victims. Walk With Me closed down in 2015, and Ms. Nagy started a for-profit social enterprise, Timea's Cause Inc., a corporation committed to education and public awareness while offering employment and second chances for survivors. Timea's Cause has received global attention and was the first survivor-led educator to educate the financial sector about human trafficking.
Ms. Nagy has inspired and created numerous national, international and global initiatives. She was also a Commissioner from 2018-2019 on the The Financial Sector Commission on Modern Slavery and Human Trafficking, a UN initiative. She is an active council member on the International Survivors of Trafficking Advisory Council (ISTAC), launched by the OSCE Office of Democratic Institutions and Human Rights, Europe.
Her Memoir, Out of the Shadows, published in 2019 by Penguin Random House Canada, became an instant bestseller. Ms. Nagy has received recognitions from Queen Elizabeth II, the Governor General of Canada, the Prime Minister of Canada, and the Attorney General of Ontario just to name a few.
Despite the fact that she has shared her story thousands of times, she is still excited to meet each audience and remains very passionate about offering any insight that helps people understand the crime that nearly took her life.
Total Course Results: ( 1 )