Instructor – Karen Butcher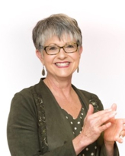 Karen Butcher is a former teacher, Mary Kay Sales Director, and Bank Training Director. She left the corporate world in 2018 to launch her own coaching and training business.
Karen knows the power of vulnerability that is required to become a courageous leader. She believes it's time to embrace a philosophy where leaders hold themselves and their teams accountable and will challenge you to let go of outdated practices.
Karen is a faith-filled woman who is courageous, resilient, and compassionate. She is driven to partner with clients who desire to elevate their skills and gain the courage to take new action.
She and her husband Gene stake their claim in Central Kentucky where they raise sheep, chickens, and vegetables on their Stamping Ground farm.
Total Course Results: ( 6 )