Instructor – Heather Legge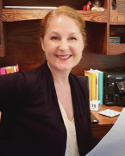 Heather Legge is a training specialist and certified executive coach, founder of Envision Success Inc, and author of Lead With Moxie. She is a senior training consultant for InterAction Training and is known for her presentation and delivery expertise.
Previously, she earned her master's in business administration and spent over 15 years in multiple industries transforming organizational performance through business analysis, project management, training and employee development.
She is passionate about making a positive impact in her local community and far beyond. She is always engaged in several networking, professional, and philanthropic groups.
Total Course Results: ( 4 )