Instructor – Erik Lamothe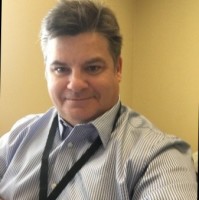 Erik has been in banking since 1998 and started as a Staff Accountant for Westfield Bank. He has experience in all areas of bank finance including Account reconciliations, Month-end closings, Call Report preparation, SEC filings, Asset/Liability Management and Funds Transfer Pricing.
Erik graduated from Westfield State College in 1996 with a bachelor's in management science/accounting. He also earned his master's degree from Boston University in 2009 with a major in Banking and Financial Services.
Prior to that Erik was served in the Navy from 1986 to 1992 in the submarine service. Erik resides in Westfield with his wife Lisa. Erik has two full-grown daughters, one in the Air Force stationed in Japan and another in College and getting married in October. Erik is a big dog lover and enjoys riding his Peloton and walking for exercise.
Sorry, there are no courses or events available based on your search.