Instructor – Gaye DeCesare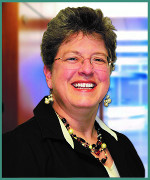 Gaye DeCesare joined CU Service Network as Vice President of Compliance in April, 2017, with the company's acquisition of COMPASS 4 CUs. She had served as the President/CEO of that organization since its inception in 2010. Prior to that, she held positions with Belvoir Federal Credit Union (2005-2015) and State Department Federal Credit Union (1984-2005).
Specializing primarily in compliance for more than 25 years, she served on the NAFCU Compliance Standards and Practices Commission that developed the NCCO certification program and is a founding member of both the Capital Area Compliance Roundtable and regional BSA Compliance Roundtable. Gaye is also a current member of Global Women's Leadership Network (GWLN), which connects and empowers credit union women from around the world.
Gaye was among the first in the nation to earn the designations of NAFCU Certified Compliance Officer (NCCO) and CUNA Credit Union Compliance Expert (CUCE) when the programs were introduced in 1997 and 2000, respectively. In addition to holding NCCO and CUCE designations, she is also a certified Bank Secrecy Act Compliance Specialist (BSACS).
Gaye is a nationally-known speaker, having presented to credit union organizations at the federal, state and local levels.
Total Course Results: ( 1 )
| | | | | | | | |
| --- | --- | --- | --- | --- | --- | --- | --- |
| Opening Member Accounts Online Webinar | Any | Any | Any | Webinar | On-Demand | Gaye DeCesare | $195.00 |