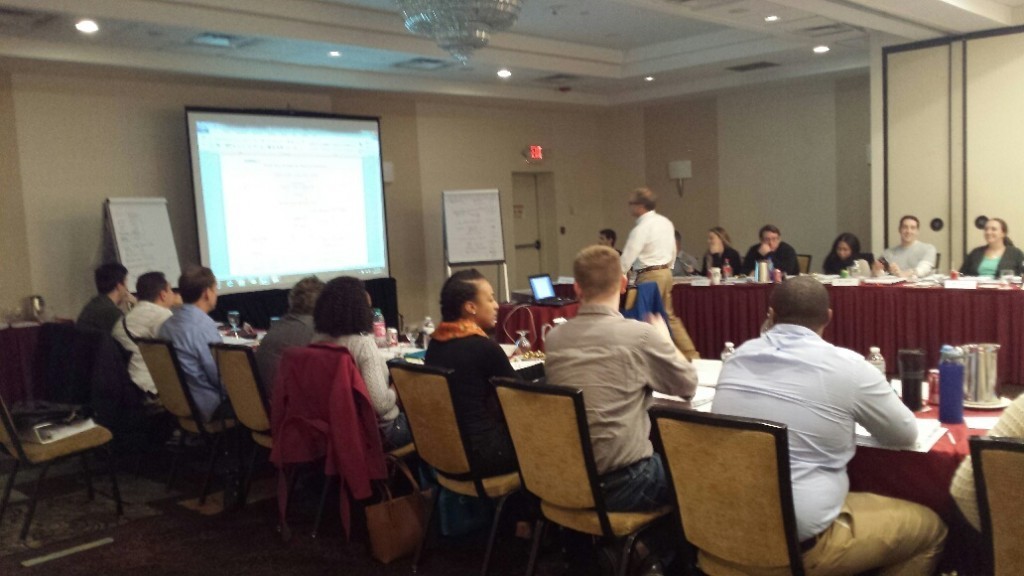 The Fall 2015 CFT Commercial Lending School was held October 18-23 at the Crowne Plaza Hotel in Monroe, Jew Jersey.  With an enrollment of 32 students, this years' class included 24 individuals from NJ as well as those from CT, PA, NY, IL, MD, and VA. Banks represented included Atlantic Stewardship Bank, BCB Community Bank, Columbia Bank, City National Bank, The Bridgehampton National Bank, Credit Suisse, First Bank, First County Bank, Cape Bank, Fulton Bank, 1st Constitution Bank, First Hope Bank, The Milford Bank, New Millennium Bank, OceanFirst Bank, RSI Bank, Pioneer Bank, Sturdy Savings Bank, Sun National Bank, TD Bank, and Valley National Bank. Also included were individuals from Alliant Credit Union, Franklin Mint Federal Credit Union, Merchants Flow Consultants, LLC, Polish and Slavic FCU, and State Employee Credit Union.
It was an intense and long week for the students but a gratifying learning experience!
Here's what our Fall 2015 Commercial Lending School students had to say:
I thought the curriculum was great. Very extensive, however it never ventured into anything that was unnecessary. Job well done putting the curriculum together.
Though the first two instructors were great (George did a great job of teaching a very tough subject), Joe May was my favorite. In the two short days we had him as an instructor, I feel that I learned so much. He had a way of explaining complicated matters in a simple way and tied them to real world examples. I really valued my time spend with Joe.
The materials were well organized and pertinent to the topics at hand.
The curriculum was very informative and well taught. I have to say with the three different instructors it really brought a significant amount of value to the curriculum. I think the way it was it was taught was also of great value because it takes you from the origination of not only the company that you are looking to work with but also makes you look at yourself and determine if this is the right career path for you or not with the review of your personal skills needed to perform the job.
Terry Kenny was very organized and had excellent teaching skills. George Connors: WOW! George loves his number crunching! This was my weakest area coming into this week and I can honestly say I feel much, much more confident after the long two days with George. He was so good at making us understand the numbers and why our credit underwriters ask us the questions they do. It all makes sense now. There was a little organization issue between the information George had and what was in the book, but this was rectified by the end of the two days.
Joe May was amazing! The experiences and knowledge that Joe shared was also significant to me. He made it all come together.
Student materials were great and I will use as a valuable reference source
All the instructors were knowledgeable, easy to talk with and understand. George did a great job of teaching a very difficult subject. Joe May told incredible stories from experience and gave me a much better understanding of the entire banking world.
Very informative program and useful. I would consider myself a beginner as far as lending goes, and it really shows you the big picture when it comes to lending.
The student binder is extremely useful and will be used the future as a resource. I felt the layout of materials was sufficient and will be a good reference guide for me to follow down the road in my career.
Many Thanks to Our Esteemed Faculty!
Terry Kenny, Market President, Metro Washington/Baltimore of TD Bank, launched the intensive 5-day School on Sunday evening focusing first on the "big picture" of commercial lending. Terry addressed company strategies and the "typical business" of commercial lending. He continued his agenda on Monday – loan investigation, effective management, and a review of historical financial analysis.
George Connors, President & Chief Lending Officer, WashingtonFirst Bank (Reston, VA & Washington, DC) delivered his segment the next two days and had the arduous task of "numbers crunching." George covered sensitivity analysis, cash flow and personal financial statement analysis, with two case studies reviewed.
Joe May, former Executive Vice President-Credit Administration for Whitney National Bank (New Orleans, LA) gave a dynamic presentation on Thursday and Friday, providing several real-life credit situations to the students. Joe's segment included loan support, documentation, negotiation, packaging, selling, problem loans and credit discipline. Several case studies were provided to the class earlier for discussion and review on Friday.
Registration Is Underway for the Spring 2016 Commercial Lending School in St. Louis.  CLICK HERE for more information or contact Karen McMullen, Senior Vice President, at karen@cfteducation.org or 800-795-5242 x9958.