Financial institutions face the unique challenge of complying with state unclaimed property law while managing customer relationships and protecting customer assets. Escheating a customer's account timely is critical to maintain compliance, but can also yield negative results and organizational risks if the customer is not truly lost or inactive.
This webinar will focus on complex state unclaimed property reporting requirements and the unique challenges facing banks and other financial institutions. Learn best practices to mitigate risk proactively, efficiently track customer contact, and monitor recent legislative updates that could impact your organization.
Covered Topics:
Overview of unclaimed property reporting requirements
Trends impacting financial organizations
Handling of unique property types, such as IRAs, CDs, and Safe Deposit Boxes
State dormancy periods
Exemptions and deductions
Owner outreach and due diligence campaigns
Best practices for maintaining contact with customers
Costly pitfalls and reporting errors to avoid
Who Should Attend?
Anyone responsible for the oversight, management, and reporting of unclaimed property; such as bank operations managers, compliance officers, risk managers, and internal auditors.
Continuing Education (CE) Credits
This webinar is recommended for 2.5 CE Credit Hours. Each attendee will receive a Certificate of Attendance for self-reporting of CE Credits.
View Delivery Options
Related Topics
Instructor
Kate Murphy is a Manager and has been a member of Crowe's State and Local Tax group since 2016. Her primary focus is providing unclaimed property consulting and compliance services. Kate specializes... read more.
Instructor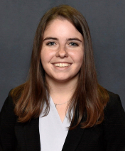 Kristen McClellan has been a member of Crowe's State and Local Tax group since 2019. She provides consulting and compliance services related to unclaimed property. Kristen specializes in multistate ... read more.