COURSE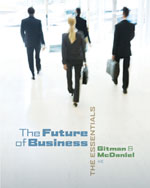 The Future of Business Course
CFT Credits: 3.00
The Future of Business training course offers a brief yet complete introduction to business concepts and terminology using a student-centered, practical, and relevant approach (see complete description below).
Click Here for Course Description and Audience
The Future of Business training course offers a brief yet complete introduction to business concepts and terminology using a student-centered, practical, and relevant approach. Students learn to navigate through the sometime stormy business environment by stressing important business issues such as customer satisfaction and quality, entrepreneurship, cultural and workplace diversity, ethics, global business, technology, teams, and e-business.
Topics include:
Understanding Economic Systems and Business
Making Ethical Decisions and Managing a Socially Responsible Business
Competing in the Global Marketplace
Forms of Business Ownership
Entrepreneurship:  Starting and Managing Your Own Business
Management and Leadership in Today's Organization
Designing Organizational Structures
Managing Human Resources and Labor Relations
Motivating Employees
Achieving World-Class Operations Management
Creating Products and Pricing Strategies to Meet Customers' Needs
Distributing and Promoting Products and Services
Using Technology to Manage Information
Using Financial Information and Accounting
Understanding Money and Financial Institutions
Understanding Financial Management and Securities Markets
Click Here for Diploma and Certificate Applications
Diploma and Certificate Applications for the Future of Business course:
Click Here for Delivery Option Descriptions
Online Course Format
Your course will be facilitated by an instructor who will guide you through each lesson and is available to answer questions and provide feedback on your assignments. Each week, you will locate your assignment in your online classroom. The assignment will include:
• reading assigned chapter(s) in your textbook
• and one or more of the following: completing a short assignment and either forwarding the assignment electronically to your instructor, posting it on the electronic class Discussion Board, and completing a self-check.
The semester length courses will have a mid-term examination and a final examination. These examinations and quizzes will be administered electronically over the Internet. Your overall grade for the class will be based on your performance on the weekly assignments, mid-term examinations and the final examination.
Guided Self Study Format
Guided Self-Study Courses offered by the Center for Financial Training are student-friendly, college level courses that allow you to take control of your busy schedule. You will study on your own, however you will have a qualified instructor only a telephone call or e-mail away. Upon registering for a class, you will be emailed your syllabus outlining your course, and login instructions to access your textbook. You will have UP TO four months (certain classes allow less than four months) from the starting date to complete your class. The starting date will be the next business day after your registration has been processed. An advisor at the CFT office will keep in touch with you to provide additional assistance to help keep you on schedule. Your exams (two per class) will be proctored by an officer or manager at your financial institution. Upon satisfactory completion of your class, you will, within days, receive your grade and the appropriate credits for the class, which are the same as though you had earned them by taking the course in a classroom or online classroom format.
Classroom Format
Evening classroom courses meet once each week for a total of 1 to 15 weeks depending on the topic. These courses are taught by qualified instructors with real-life experience from the financial services, legal, and academia sectors. Our faculty is comprised of credentialed professionals with a broad range of subject matter expertise who always present interactive and dynamic classroom experiences. They have significant experience in the field they are teaching, and most have advanced degrees. CFT faculty members are dedicated to helping students achieve their educational goals and actively serve as mentors for those seeking degree status.
Features and Benefits of CFT Live Evening Classroom Courses:
Discussion and dialogue are "face to face"
Student questions are answered immediately
Students learn first-hand about the on-the-job experiences of their classmates
Instructor assistance is always available – during class & after hours
Interactive "live" classroom environment
Students form peer groups that last a lifetime
In-House Format
Virtually any course or seminar that CFT offers can be brought onsite and taught to your employees at the most convenient time for your company. You can also purchase CFT curriculum and teach the course in-house with an internal instructor.