What do you do when you were once a teammate and now you supervise the team? How do you juggle staffing, customer service, and pressing deadlines? Address your critical supervisory issues and become an extraordinary supervisor.
Do you trust yourself to lead with confidence or do you often second guess your ability to be a supervisor? It's natural to feel overwhelmed by all the responsibilities and emotions that come with the role. In this workshop, you will explore the fine art of self-assessment to evaluate your current skill level and make a plan to meet all of your job challenges. You will learn to recognize ego, drop judgment, and let go of assumptions that often impede supervisory success. Break-out "reflection groups" are used to share new ideas, best practices, and offer feedback.
Who Should Attend
Newly appointed supervisors and "supervisors-in-waiting".
Continuing Education (CE) Credits
This webinar is recommended for 2.5 CE Credit Hours. Each attendee will receive a Certificate of Attendance for self-reporting of CE Credits.
View Delivery Options
Related Topics
Instructor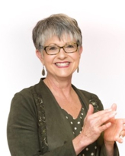 Karen Butcher is a former teacher, Mary Kay Sales Director, and Bank Training Director. She left the corporate world in 2018 to launch her own coaching and training business. Karen knows the power of... read more.