Over the past year, your team has been in a state of flux with the weekly, and sometimes daily, challenges from the pandemic. Many branches opened with skeleton crews while their counterparts worked from home. Soon our branches will return to full capacity and employees will once again work side-by-side with their peers. We will examine their new mindset and learn what steps you can take in order to create a healthier work environment with more engaged employees.
Covered Topics
Explore the relationship between creating value and employee retention
Evaluate specific leadership principles designed to grow your team leaders
Understand how specific, actionable tools such as weekly team meetings, check-in'€™s and observation coaching enhance performance
Who Should Attend?
This session is specifically geared for Human Resource Executives, Retail Banking Executives and Operations Executives.
Continuing Education (CE) Credits
This webinar is recommended for 2.5 CE Credit Hours. Each attendee will receive a Certificate of Attendance for self-reporting of CE Credits.
View Delivery Options
Related Topics
Instructor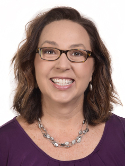 Rachelle Humiston, Executive Consultant and Director of Cultivate™ has more than 14 years of experience in developing and implementing customer service cultures, brand projects, marketing campaigns,... read more.