Have you ever avoided a tough conversation because you don't like conflict? Congratulations, you are among friends. Most people don't jump out of bed in the morning thinking, "I hope I get into some conflict today!" Yet, many leaders avoid tough conversations for multiple reasons, generally boiling down to fear. Fear of the person's reaction, hurting feelings, being taken advantage of, or the desire to be liked can get in the way of curious communication.
If you could release that fear and build your courage muscles, would you be willing to learn new skills and commit to taking new action? If yes, join Karen Butcher, communication coach and trainer, for this challenging session on Courageous Conversations.
Who Should Attend
All employees who want to create a positive work environment and resolve interpersonal conflict.
View Delivery Options
Related Topics
Instructor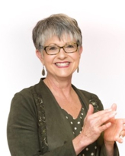 Karen Butcher is a former teacher, Mary Kay Sales Director, and Bank Training Director. She left the corporate world in 2018 to launch her own coaching and training business. Karen knows the power of... read more.