Nearly every ISO and IT Manager's greatest fear is getting THAT phone call – the one where a user says they have a ransom note popping up on their screen. This is one of our greatest fears as well, but with a different spin – getting THAT phone call from a client. Unfortunately, we've been in this situation before and helped numerous organizations recover from ransomware.
In this session, we'll review two different ransomware attack scenarios from two different organizations that got different results while dealing with ransomware – and WHY.
What You'll Learn
Who Should Attend
Information Security Officer, IT Manager, Risk Officer, Internal Auditor, Board members, or other management team members looking to understand risks from Ransomware.
Continuing Education (CE) Credits
This webinar is recommended for 2.5 CE Credit Hours. Each attendee will receive a Certificate of Attendance for self-reporting of CE Credits.
View Delivery Options
Instructor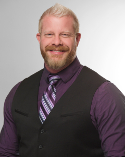 Buzz Hillestad is a VP Information Security Consultant and heads the Incident Response team at SBS CyberSecurity in Madison, South Dakota. SBS is a premier cybersecurity consulting and audit firm dedi... read more.