Advertising presents a unique challenge when it comes to regulatory compliance. This is due to the fact that you often have to deal with many different regulations at one time. This webinar will walk you through all the requirements that could come into play.
Advertising compliance is often a challenge for many institutions. Marketing personnel aren't always experts with the technical advertising requirements established within the various regulations. And, those responsible for regulatory compliance are often excluded from the process until after an advertisement has been published. The challenge doesn't end with just the technical components of an advertisement. UDAAP is also a huge concern. You have to be aware of the differences of luring someone vs. deceiving them (UDAAP).
The "Advertising Compliance" webinar has been approved for 2.5 CFMP, CRCM credits. This statement is not an endorsement of this program or its sponsor. Credits are redeemable for Live attendance only. To receive a certificate, email streaming@oncourselearning.com. Certification holders must report these credits at https://aba.csod.com.
What You Will Learn:
FDIC signage and advertising rules
The Fair Housing Act
Deposit Insurance
Truth in Lending
Truth in Savings
Sample Rate Sheet
Non-Deposit Investments
Lobby Disclosures
Web Sites
UDAAP
Lotteries and sweepstakes WILL NOT be covered.
Who Should Attend?
This webinar is for anyone responsible for either producing or reviewing advertisements for compliance.
Note: For this webinar, all questions submitted before or during the webinar will be answered during the live webinar, even if the time required exceeds two hours. If you register for any of our options (Live, OnDemand, CD) and would like to pre-submit questions before the live webinar date, please email those to info@ttstrain.com. When planning for the webinar, please allow extra time at the end if you wish to hear the Q&A. We regret that questions cannot be answered after the live webinar.
Continuing Education (CE) Credits
This webinar is recommended for 2.5 CE Credit Hours. Each attendee will receive a Certificate of Attendance for self-reporting of CE Credits.
View Delivery Options
Related Topics
Instructor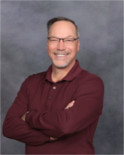 David's banking career began as a field examiner for the FDIC in 1990. He later became a Compliance Officer and Loan Officer for a small bank. In 1993, he established Banker's Compliance Consultin... read more.