A record number of students (nearly 100) from the financial services industry attended the 25th Annual CFT Federal Compliance School (held Nov. 7-10) in St. Louis, MO. Experienced Compliance Officers, and those beginning in the field, attended the 4-day School from various parts of the country. More states than ever were represented this year including Alabama, Arkansas, Connecticut, Illinois, Missouri, New York, Ohio, Pennsylvania, Rhode Island, South Dakota, Tennessee, Texas and Virginia.
With the Credit Module expanded this year, Carl Pry, J.D. CRCM, kicked things off first thing Monday morning with a session on Fair Lending. This was Carl's fourteenth year on the faculty. He has written extensively regarding consumer and commercial compliance, tax, audit, legal and Internet banking. Carl is also a frequent presenter for CFT's compliance webinars. The remainder of the day was devoted to an in-depth discussion of Reg Z, followed by a cocktail reception.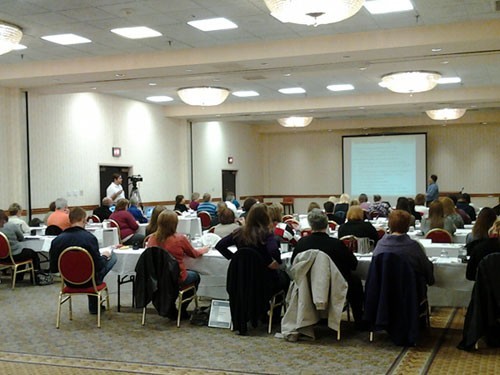 Keith Monson, CRCM, Executive Vice President and Chief Risk Officer of Providence Bank returned this year and began the day Tuesday with the latest changes in FCRA. Keith has almost 25 years of experience with both large and small financial institutions and is a past Chairman of the CRCM Advisory Board.
Tuesday, we welcomed a first-time presenter to the School, Jerod Moyer, CRCM, of Banker's Compliance Consulting. Jerod is a consultant with a very strong compliance background which enables him to take compliance issues, correlate them to his own past experience and provide practical solutions. Jerod took the floor for the remainder of the day with presentations on Flood and the ever-challening RESPA.
Back by popular demand, the "ask the experts" Q&A Lending Lunch was held on Wednesday. Following a discussion on CRA with Keith Monson and HMDA with Jerod Moyer that morning, the students had the opportunity to conclude the Credit Module with an informal and relaxed lunch where the Presenters made themselves available for any and all questions. Students could ask questions anonymously by writing them down in advance, or by asking them during this informal discussion time.
A "hot topics" presentation by Keith Monson on 'What's Coming down the Regulatory Pipeline' concluded the day on Wednesday.
Another exciting addition to this year's school began Thursday morning during the Operations Module with the first-ever live streaming video session! Those students unable to attend the live session could participate via live streaming video in the BSA, OFAC and Regs D, E, CC and DD presentations given by Carl Pry and Keith Monson.
This new format was well-received with Lynn James, BSA & Training Officer of Citizens National Bank having this to say afterwards:  "Wow, that was fantastic being able to receive the training "live". I hope we can do more of it through CFT. Thanks so much!!"
Here's what others had to say about the School:
"Best week long Compliance School out there"!
"I love the presenters, they made this fun"!
"The opportunity to ask specific questions is my favorite part of this School."
"Q&A session is great information. Very much appreciated."
"I like the examples provided and the knowledgeable speakers. "
"Great benefit for the cost."
"Instructors talented and knowledgeable and very eager to answer and respond to real life situations."
"Outstanding explanation on new Dodd Frank insanity."
"Loved the Q&A."
"More time for RESPA, please."
"Always a great presentation by CFT, year after year."
"The materials and resources are outstanding."
"This School keeps me updated on the ever-changing regulations so I can comply."
"The program materials were very detailed and are a great resource to take back to my bank."
"Presenters have a great sense of humor. Let's face it, this stuff is dry!"
"A lot of information presented in a short amount of time. Well done!"
For information regarding the 2012 school, please contact Crista Olson at crista@cftnow.org or visit our website at http://cftnow.org.